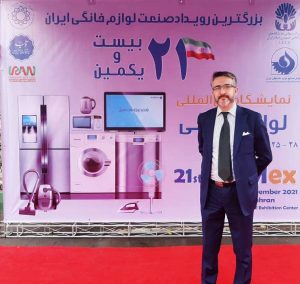 Ferdowsi Legal was invited to attend the 21st Iran HAMex held from Nov 16th to 19th. Proudly represented by our partners Jean-Charles Albitre and Paul-Arthur Luzu, we have met with our clients and top actors of the sector including with the Association of Home Appliance Manufacturers
The Home Appliances market in Iran is generating an annual turn over of circa € 5 Billion. With the 🇺🇲 sanctions and the withdrawal of foreign companies 75% of the market is covered by local productions.
The recent decisions to resume the JCPOA talks between
US and Iran might have an impact for European companies on this important sector. Even though, the Home Appliances sector is highly protected by the Iranian government as per the direct order of the suprem leader, Iran needs to import many products and components not manufactured in Iran. Iranian manufacturers are also eager to enter into win win partnership with foreign brands for local production.
Our Firm, since the beginning, years ago, advised several leaders of the market in Iran and the region for their international development and partnership plus their IP legal issues.